Description
Diatomaceous Earth (DE) Above Ground Filter System by Pentair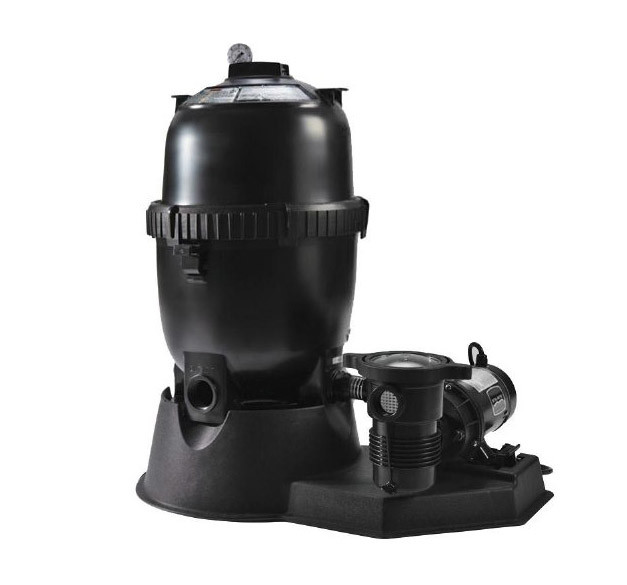 My favorite DE above-ground swimming pool filter. Anyone who has read my above-ground pool filter reviews knows I prefer DE over other filter media types like sand or cartridge. This one is in league with my favorite Inground swimming pool filter, the Pentair Quad DE.
Pentair bought the Stay-Rite company a while back, mostly for their excellent pool heaters, but they got much more than that with the Sta-rite pool-filter line.
The material used to construct this filter is the same that is on the new Pentair Quad DE. I have never seen it before on any other DE-filter. Cudos to the engineers for using this material on a new filter. The beautiful thing, besides how well it filters, is how easy it cleans up. Looks new after just hosing it off.
This product is packaged with a base to mount the filter and the 1 HP OptiFlo pump. The pump motor has three prong twist lock plug. It comes with hoses, and union to hook the pump up to the filter, and the pool. The OptiFlo pump is way easier to open and close compared to Haywards new Matrix Pool Pumps. I am as muscular as a gorilla, and I have trouble with Matrix Pump lids. Not so with the Opti-flow, it is easier to open with its brilliant design.
Manufacturer: Pentair/Stay-Rite
Filter Model: PLD 50
Pump: 1HP Optiflow
Accessories: Base/stand, Premium hoses, and clamps
Here is a link to Pentair's PDF for this Filter system combo
I have a customer with this filter on a 24 round above-ground swimming pool. I open and close his pool every year. I asked him how many times he had to clean it during the pool season when I came to close his pool? He replied that he had not touched it since I opened it in the spring. And it still only took me 15 minutes to drain it, take it apart, and clean it.