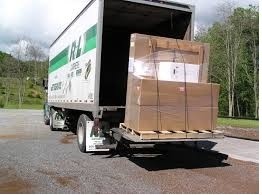 We either don't charge anything extra for shipping Pool Packages (East Coast) or $200.00 for Midwest and Southern States, or $425.00 for the West Coast add 750.00.
We ship every pool-package with freight companies all of the local United States.
We ask our shipping partners to arrive with a power tailgate so they can lower the pallet(s) down to the ground for you. This service is called driver assisted power tailgate. Most drivers are friendly and accommodating, but they are not responsible for bringing your pool where you want, just to deliver it to your address.
In rare cases, you will be asked to go get your above-ground pool kit from the closest shipping terminal, or the trucking company may agree to meet you somewhere more convenient. Private pickup is usually due to the roads or bridges leading to your property not capable of supporting truck traffic.
The shipping company will call you to arrange delivery, if you have any concerns because you live in a rural area, please discuss them while you have the company on the phone trying to coordinate the delivery with you.
Any pools left at the shipping terminal will be assessed storage fees after just a few days.
We are paying most of the cost to ship you your pool to you, even if it is termed "free shipping". You will be charge the full shipping cost should you decide to return your pool, or if for any reason you refuse delivery once it has shipped. You will pay the full freight (not to exceed our cost) for both shipping and returning your order. Shipping actually cost as much as 1800.00 in some cases even though you only pay 750.00 as in the case with shipping to California. But, should you return the pool or refuse delivery, your refund will be less our actual cost to ship and then have returned the pool.
Please read our terms and conditions page for more information about our free shipping service