Description
12×18 Semi-Inground or Above Ground Pool Package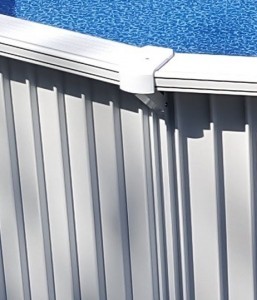 The best semi inground pool, is no doubt the Aquasport 52. There is no stronger pool, or a pool designed to last longer. It's strength comes from the extra thick aluminum slats, that go into the construction of the Aquasport 52 wall. You could completely bury this pool if you want to. Perfect to bury in sloping yards, or for any landscaping plan.
The Aquasport 52 aluminum top rails are manufactured with a bead channel built right in. Making this pool like an inground pool, you don't have to disassemble any part of this pool to replace the liner. Read more about the Aquasport 52.
12 x 18 x 52 Semi – Inground Pool Kit Includes:
Pool: Aquasport 52 with Above-Ground Skimmer (inground skimmer and pump available separately)
Choice Of Four Full Print Premium Beaded Liners
120 Square Foot Cartridge Filter w/2-Speed Energy Efficient Pool Pump
Confer 7200 Ladder with Security Barrier and Lock
9 Piece Pro Maintenance Kit
Build your own custom package Click here
The Skimmer
Standard Hayward Skimmer package with through-wall return, gaskets, face-plates, hardware, vacuum plate adapter, plus additional butterfly gaskets.
This is everything you need to get water out of the pool, and then back to the pool.
If you intend to bury the skimmer like an inground pool, we can include a inground skimmer package instead.
The Liner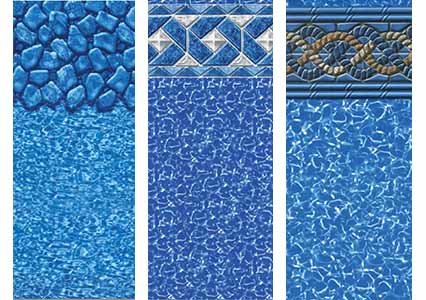 Your choice of three quality swimming pool liners made custom to fit our pools like a glove.
These are all Perma 2500 Series liners from Swimline
Swimline makes more vinyl above-ground pool liners than any other manufacturer
When shopping and comparing quality and thickness, be sure to look for descriptions used by the manufacturer. Any other description is marketing talk.
Confer 7200 Security Ladder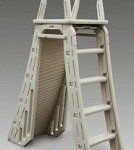 This is the most stable A-Frame ladder on the market. It has the added advantage of a wall that slides in front of the entry steps, it can then be locked in security mode with a padlock. (padlock not included).
It has a wide base, it is vented to allow water circulation (helps prevent algae), and secure handles on top to help you get safely up and down the ladder.
Learn more about this pool ladder here
120 Square Foot Cartridge Filter with 2-Speed Pump, Base, Hoses, Valves, and Clamps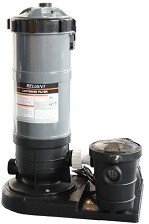 This filter system offers energy efficiency and powerful cleaning.
Read more about this filter system here
Shipping service includes residential freight, power tailgate, driver assisted delivery. The only exception to this are super rural addresses, and addresses that can not be accessed by our trucks. Then we deliver to the closest shipping terminal.
Now you know what components you need to make a pool package. If you prefer, you can use our custom pool package builder to build your own package. You can add more accessories, or take out items… You have total control.
For help checking out, or to place an order over the phone, please call or text (978) 710-8667.