Description
The Lamark LASA is our Lamark pool, but with an Aluminum Wall. This package includes our Wheat Wall Pattern (aluminum) by default. You are able to choose from two other wall options during checkout if you like.

This is a premium pool package and comes with our thickest liner, the Brighton Prism, a Hayward Skimmer Package, Confer 7200 Security Ladder, 100 Square Foot Cartridge Filter System (Unicel cartridge), with a 1 HP 2 Speed pump, and a 9 Piece Pro Maintenance Equipment kit. It includes Free Shipping.
The Pool – Lamark LASA – 21×52 Round Complete Package
The first thing included in this pool package is the pool. White extruded resin top-rails and uprights. The Lamark features a gorgeous slim design that accents the beauty of the pool wall. Remember all Lamark pools, are only available in white resin. To read more about the Lamark Pool visit here.
All Lamark LASA Wall Options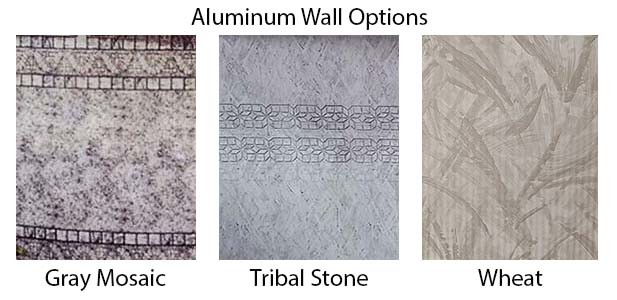 You get your choice of wall pattern, add your wall choice during checkout, under special instructions. The Wheat Wall is a popular choice, and it is the default wall shipped with this package when none are specified.
The Skimmer
Standard Hayward Skimmer package with a through-wall return, gaskets, face-plates, hardware, and vacuum plate adapter, plus additional butterfly gaskets.
This is everything you need to get water out of the pool, and then back to the pool.
The Liner
The Brighton Prism full print beaded liner is the best liner we offer. It is thicker than any other above ground pool liner. It is a true 20/17 mil, 20 mil wall, and 17 mil floor. I know its confusing because other pool stores claim higher numbers (thicker liners), but there is no manufacturer that makes a thicker above ground pool liner than this one. It is made by Latham Pool Products.
We have liners that cost more, but they are not better. This is our stock liner, we have to buy over 500 of these to get the price as low as it is. This will fit the 21×52 Atlas pool like a glove.
Confer 7200 Security Ladder
This is the most stable A-Frame ladder on the market. It has a wall that slides in front of the steps that can be locked with a padlock when not in use (padlock not included).
It has a wide base, it is vented to allow water circulation (helps prevent algae), and secure handles on top to help you get safely up and down the ladder.
100 Square Foot Cartridge System with: Pump, Base, Hoses, Valves, and Clamps
We put a Unicel cartridge in this system. It has been hand-picked for this pool. It is definitely over-sized for this 21×52 pool, but you will appreciate it every time your swimming in sparkling clear water. Larger filters mean less maintenance. This filter is 2-times better than a 200lb sand filter.
We paired a 2 Speed 1 horsepower (HP) pump. 2 Speed so you can enjoy lower energy cost, and 1 HP so dirt does not blow by, or get embedded in the filter. Also, your cartridge will last longer.
Also included are the base, premium hoses, hose fittings, slide valves and clamps.
9 Piece Pro Maintenance Equipment Package
There are less expensive equipment maintenance packages than this one. But because you are getting it at our cost, it just adds convenience and value to this package. It comes with a 30-foot vacuum hose, vacuum head, service pole hooks (service pole not included), test strips, for checking chemical levels, a hand brush, frog thermometer, Leaf net, service brush, and debris skimmer. The only thing you will need is a service pole to make this kit complete
We do not ship service poles, as they more often than not, it shows up looking like a service pretzel.
Shipping Included
Shipping is included in all our pool packages. Shipping service includes: Residential freight, power tailgate, driver assisted delivery. The only exception to this is super rural addresses, and addresses that can not be accessed by our trucks. Then we deliver to the closest shipping terminal.
Now you know what components you need to make a pool package. If you prefer, you can use our custom pool package builder to build your own package. You can add more accessories, or take out items… You have total control.
For help checking out, or to place an order over the phone, please call 1-800-897-8239. During the season with high call volumes, it is best to email. Someone will respond as soon as possible.