Description
A-Frame Ladder For Above-Ground Pools Without a Deck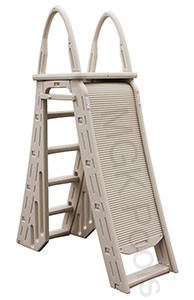 The Confer 7200 A-Frame Ladder is well balanced and stable. This ladder is my first recommendation for all above-ground swimming pools without a deck, and especially for those without a fence around their backyard.
The built-in easy to use security shield can be slid into place when you do not want people to have access to the pool. The Confer comes equipped with a place to add a padlock to keep security barrier in place.
For those who have a fence around their property, this A-Frame ladder will prevent those with access to the pool from inside the house. You can never be too safe.
The base of this A-Frame ladder is broader inside the pool so as not to place to much pressure on the pools vinyl liner.
There are trim caps that can be removed allowing you to fill the framing of the ladder with water and force out any air trapped inside. This added water will weigh down the ladder helping to hold its position.
I add this A-Frame ladder to most of the above-ground swimming pool packages I assemble for people.
*PRO TIP – Try not to place the pool ladder to close to the return water jet, as the water pressure will push the ladder.
Quick Demonstration of how the Confer 7200 with roll and lock security feature works. (lock included)