Description
Hayward XStream 150 Sq. Ft. Cartridge Filter with Spec Variable Speed Pool Pump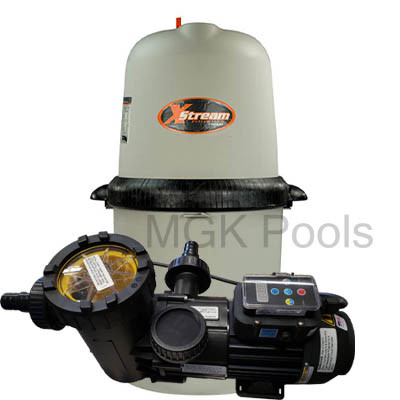 This is an excellent above ground pool filter system. I packaged together one of the best filters for medium and large size pools, with one of the most dependable and affordable energy efficient pool pumps.
This system includes a Spec variable speed pool pump with cord and plug and the Hayward XStream 150 cartridge filter. You will have to do some plumbing work to make this hook up to your above ground pool, but all connections are standard 1.5″ threaded for easy setup.
This is a one of a kind above ground filter package. I sell the best products not the cheapest.
XStream Size for an XStream Clean. The Hayward XStream 150 Filter system is one of the largest above-ground cartridge filters on the market, with a 150 square foot cartridge.
This variable speed pump comes with 3-prong twist-lock power cord.
I always say, when it comes to filters, go big, or don't go at all. This would make an excellent choice for a replacement system, or for a new pool. If you enjoy long filter runs with low maintenance, this is a very good option.