Description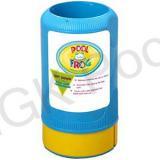 Mineral pack for the King Technology's Frog 6100 series above-ground pool chlorinator. Each mineral pack is designed to last one pool season.
Adding minerals to the pool water will not only make it more sparkly, but it reduces the amount of chlorine that is necessary to fight bacteria and algae.
Replace your Frog Mineral Cartridge every year to maintain algae fighting minerals in your above ground pool water. Frog mineral systems permit you to keep more comfortable low levels of chlorine, without running the risk of an algae bloom.