Description
Pentair 342001 Variable Speed Pump | Energy Star Certified
This Pentair is the best variable speed pump available for inground pools with 1 or 2 skimmers and a 2-4 return jets. 1.5 HP. I even use this Pentair 342001 Variable Speed Pump on Above-Ground Swimming Pools.

The Perfect Pump for Everyday Pools Requiring Up to a 1.5 Hp Pump
SuperFlo VS pumps slash energy costs by up to 80%*, compared to conventional pool pumps. With premium features like a 24-hour real-time clock and an intuitive interface that displays watts and RPMs, they're easy to program and operate. With the SuperFlo VS pump, you can enjoy significant savings on your utility bill. Perfect for new and standard pump replacement applications. No other company can match our proven, in-field performance and reliability so that you can count on years of long, dependable service. No wonder we outsell all other variable speed pumps.
Pentair 342001 Variable Speed Pump
Only variable speed pump on the market today with 115/208-230V and 50/60 Hz single phase capability. Operating nominal voltage range is 110V thru 230V
Ideal for standard pools requiring up to 1.5 HP pump
Three operating speed settings plus override capability
Direct and superior drop-in replacement for the Hayward® SuperPump®
An Eco Select® Brand product: one of Pentair's "greenest" and most efficient choices
* Savings based on variable speed pump compared to a single-speed pump running 12 hours per day at an average of $0.16 per kWh in a 20,000-gallon pool. Actual savings may vary based on local utility rates, pool size, pump run time, pump horsepower, pump rpm, plumbing size and length, pump model, service factor and other hydraulic factors.
Hayward® and Super Pump® are registered trademarks of Hayward Industries, Inc.
My all-Time Favorite Pool Pump
The Pentair 342001 Variable Speed pool pump is by far my favorite. I sold and installed this pump, more than any other this year. I sold it to people with both above ground pools and inground pools. The 342001 is suitable for sand, earth (DE), and cartridge type filters. It runs on 110 volts or 220 volts, and the cool thing about it is this. You don't even need to know what you have for power, and it figures it out for you.
I wrote an article reviewing pool pumps back in 2013, just as variable speed pumps started to take off in popularity. I keep updating it a couple of times a year, you can find it here. This pump broke on the seen new in 2015, and it is changing the industry.
The 342001 pump is not for everyone though, it is best for above ground pools, and for inground pools with 1 or 2 skimmers, and 2 or three return jets. Pretty much any pool without fancy plumbing.
Programming the Pentair Superflo VS 342001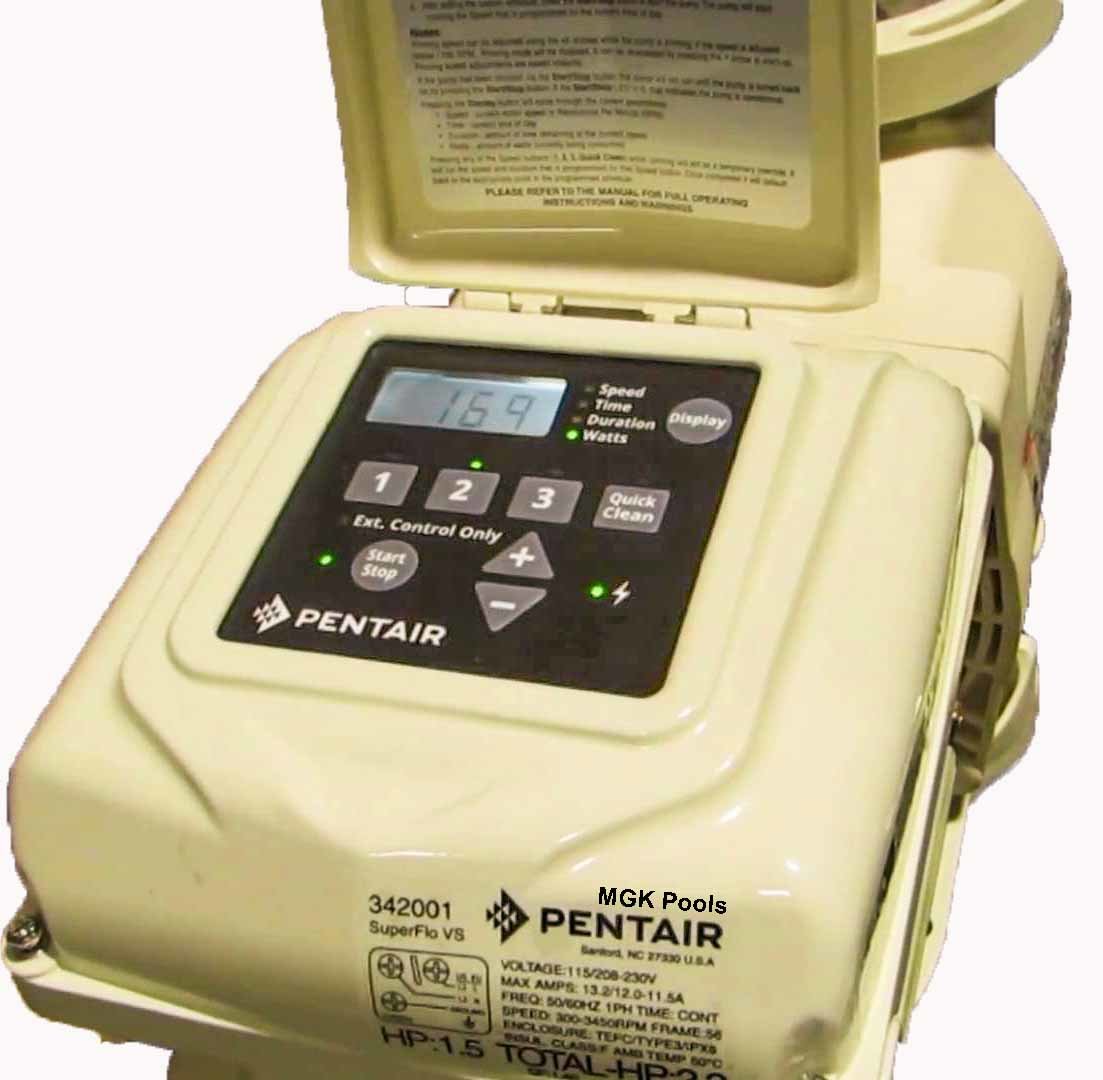 This pump eliminates the need for a pool timer. In fact, it is not a bad idea to remove any hardwired timers before hooking up the pump. On a rare occasion, they interfere with the pump operation.
Setting Time
Programming the 342001 Superflo is a piece of cake. As soon as you power up the pump, meaning as soon as it has electricity, set the time. Press and hold display for 2 seconds (top right), then select 12hr or 24hr, do this by toggling back and forth with plus or minus keys, once you have what you want, hit display again.
Now set the time by pressing and holding either the minus key or the plus key. As you hold it down it will pick up speed, if you pass your time, just use the opposite key to dial it in.
Programming Speeds and Routines
Next, to the Display button on the left, you see four words with a green led beside one (Speed, Time Duration, Watts). Whatever is green is what you are adjusting.
Press the 1 once, and it will display the speed, set the RPM to 3000, now hit the 1 again, now set the time you want that rpm to start (8 am), next hit the 1 again and set the duration for 6 hours. Now hit the 2 key and set the RMP to 1900 RPM, hit the 2 key again and set the time start to 1 pm, hit the 2 key again and set the duration for 6 hours. Now hit the 3 key and set the RPM to 1200, hit the 3 key again to set time start, set it to 8 pm, the hit it again and set the duration to 12 hours. If you have a DE filter, only set it for 9 hours, this will give your DE 3 hours to fall of the grids in the filter. That's it, it's programmed for a 24hour cycle.
Programming Quick Clean Button
Now program the Quick Clean button. As its name suggests, it is used for vacuuming and backwashing. Set it to the highest RPM for your pool. 3450 for in-grounds, and no higher than 2400 for above-ground pools. Also, set the duration for one to two hours. After two hours, it will drop back into regular programming, just in case you forgot to do it.
Above Ground Pool Owners and Applications
The one thing you guys with above ground pools have to remember is that the default speed is 3450 RPM on startup. This rpm will destroy above-ground pool cartridge filter elements quickly, cause channeling in sand filters, and embed dirt in a DE filter. It's all bad. I would set all programming to run at no more than 2400 RPM. Also, the default programming has a 5-minute priming cycle. Any time the pump is started, it will try to prime at 3450 RPM for 5 minutes.
Disabling the Prime Cycle of the 342001
You disable the priming cycle by holding down the "Minus Key" upon starting, hold it down until the RPM drops below 1700. Once this is done, priming mode is disabled…UNLESS the power goes out for more than 48 hours, then the default programming starts over. The pump will only hold it's memory for 48 hours without power.
342001 Pump Installation
These pumps are designed to be a straight easy swap out of older Pentair pumps, and Haywards Super pump. They come with the quick connect screw-on unions you see in the image at the top of the page. So for inground pools, all you need is a little primer and PVC Cement, and a saw to cut the pipe.
Above Ground Pool People
You are used to pumps coming with a plug. This pool pump is mainly an in-ground pump. Hence it does not come with a cord or plug. When I am swapping out an old above-ground pump, I take the power cord off the old pump. Otherwise, you will have to buy one. There should be a link to Amazon below, or if you use a standard house GFCI, you can cut the cord of an old appliance, or sacrifice an extension cord.