Description
Swimming Pool Filter Above Ground System w/ Energy Efficient 2-Speed Pump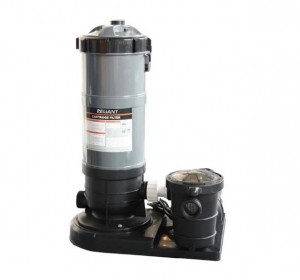 This combo above-ground pool-filter and 2-speed pump system come with; the filter, the pump, the stand/base, premium hoses, knife valves, and clamps. Not only that but we include a Premium Unicel cartridge in the filter. Included with Lot of our Pool Packages
This package has to be the best value in above-ground pool filtration. You get a 2-speed pump which usually cost 300.00, and you get 100 sq ft. Cartridge-filter, also normally 300.00, with shut-off valves and premium hoses and clamps all for this low price.
This filter will be a little small for pool sizes larger than a 24 round, or 15×30 oval. But perfect for these volumes and below.
Recommendations:
This filter system is your primary defense against cloudy water, the more you run it the cleaner your swimming pool will be. Also, more circulation means the surface water is cleaner and fewer debris floats to the bottom. You see algae on ponds, not streams, keep that water moving. You will even use fewer chemicals, and your water will remain balanced.
Specifications:
Pump: 1HP with 5 foot 20 amp cord, Easy open cover and Debris basket
Filter: 100 Square Foot with Unicel Brand Cartridge
Accessories: Pressure Gauge, Premium Hoses, Clamps, 2 Gate-valves, filter & pump base, and hardware.
Operation Suggestion:
I suggest running this filtration-package 24 hours a day on low speed. Switch it to high-speed just for chores like vacuuming, and running suction or pressure side cleaners.
Energy savings:
Most people don't realize running the swimming pool pump is the second most significant draw of electricity. By following the -suggestion above,  you will save 50 % on energy bills over single speed pumps running just eight hours a day.
Pool Filter Above Ground Cleaning
To clean your new swimming pool filter, screw off the lid on top, pull out the filter-cartridge and rinse it off with a garden hose. Unicell cartridge lasts about three years.