Description
Pentair Pool filter w/ Energy Efficient Variable Speed Pump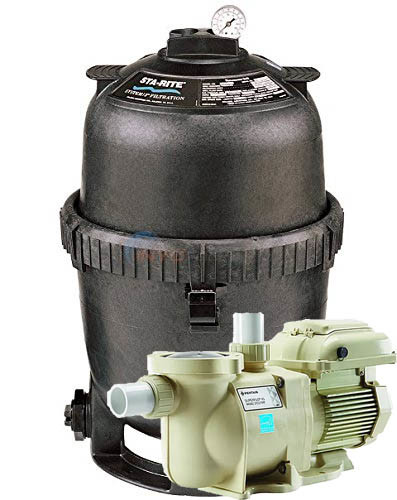 I designed this pool filter system for above-ground swimming pools, but the truth is that it will work on in-ground and semi-inground pools too. That is because the pump was originally intended for just in-ground swimming pools. But get this, the filter was designed for only above-ground pools. However, the pool filter works so well I install on in-ground swimming pools up to 18×36 in dimension.
The biggest benefits of this combination are how little maintenance work you have to perform, the amazing clarity of your pool water, and of course huge energy savings.
Most people will spend $1500.00 on energy over a five year period. With this pump, you are looking at saving over a thousand dollars. Plus, you won't be replacing the pump or entire system like you would have to with a traditional above-ground filter system. Hmmm Right?
Above-ground people might think I'm a madman, $1200 bucks for a pool filter system? While to in-ground and semi-inground people this probably looks like quite a bargain. But if you look at the big picture you will see this filter combo cost much less over the long haul and does twice the work of other pool filter packages 10x the job of sand pool filters.
Pentair 342001 Variable Speed Pool Pump
Please read more about just the pump here. People from Massachusetts should look out for a special promotion on that page as well. The 342001 is the engine that will help push water through your filter, and when you like, you will have all the suction you could ever ask for to vacuum your pool.
Pentair PLD50 DE Filter
This filter was originally made by Sta-Rite as you can see in the image on this page. But Pentair bought the company a long while back and rebranded it. This filter has the best DE Grids of any I have ever seen. No media cleans better than DE (Diatomaceous Earth), so no pool filter can eliminate smaller particles of dirt. The beauty of this media type is how long it will run without the need to be cleaned.
I have a customer with a 24 round above-ground pool with this pool filter on it, and he goes the whole pool season without servicing it once! Less maintenance is one reason why I selected it as the best above-ground pool filter when I wrote these articles Here and Here.
Pool Filter – Setting Up This Kit
The 342001 pool pump comes with slip unions, the DE Pool filter comes with nipples and a few other fittings. But, that's all you get for set up. You will have to buy a power cord or hard-wire the pump. Probably also take a trip to Homes Depot or Lowes to get some plumbing supplies, as this pool filter kit is not a complete package like most above-ground pool filter systems. You're going to have to get your hands dirty.