Description
Pool Steps With Weights
Best drop-in pool steps for swimming pools with a 52-inch pool wall. These steps come with a removable weight system and anti-slip stair treads.
Drop-in Step System For Above-Ground & Semi Inground Pools
This wide staircase features embossed anti-slip treads to help prevent accidents.
The sides are well vented to allow proper water circulation which will cut down on the potential for algae growth.
These pool steps have long smooth rails on the bottom of each side to distribute load evenly on the liner, reducing any pressure points.
Very few step systems come with a functional design to them to keep them from floating around in the pool. They either have you fill sacks with sand or have no plan at all. My pool steps come with two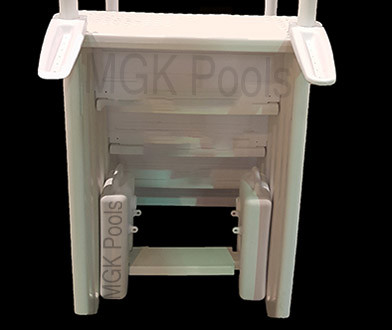 containers that mount onto a cross brace on the underside as you can see in the picture.
They are so well balanced I once walked to the top of them and stood there with the whole system entirely out of the pool.
I weighed roughly 330lbs when I did it. The system did not give at all, nor did it tip or tilt in any direction.
Most systems require you to pack the frame with sand or pea-stone during assembly, but that never seems to be enough.
Ours is no different, we ask you to fill them with sand, but with the added system that mounts under the step, you can count on them sitting squarely on the pool floor.