Description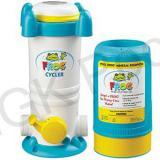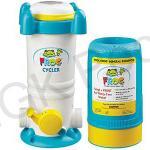 The King Frog automatic pool chlorinator is our top pick for above-ground swimming pools. It is a premium low-cost chemical erosion feeder. It not only helps to maintain a healthy dose of chlorine, it also includes a mineral erosion pack, to make sure the pool is loaded with natural algae fighting elements (Copper & Nickle).
This Kit Includes
Chlorinator
Mineral Pack ($84 value)
Lube for cover o-ring seal
1.5-inch threaded adapter
Sticker to help keep track of when packs have been replaced
Nature 2 was the first mineral pack erosion feeder. King Frogs auto chlorinator is the first to include the mineral pack in the same housing.  With the mineral pack, you are able to maintain lower levels of chlorine. Our price is usually pretty competitive, but you could try shopping Amazon too.
---