Description
Flagship Above-Ground Swimming Pool – Dauntless
Above ground swimming pool from MGK Pools, This all aluminum Swimming pool features our best-rolled wall pool. Considered the Flagship of MGK Pools Pool Offerings. Available with decorative perimeter fence and multiple designs.
Our Dauntless framing made of premium NASA grade aluminum and thick white extruded aluminum top-seats, and uprights/columns. The top-seats and upright columns have a channel for a "decorative accent feature strip (insert") that matches the wall. Almost looks like they are hollow, but they are solid extruded aluminum.
The rest of the swimming pool industry are either pushing cheap steal pools or resin frame pools, in a race to see who can make the cheapest pool, we took another direction. The Dauntless pools are all aluminum with no steel or iron to rust or rot out.
Some extra work went into the tooling and manufacturing of our pool, but we feel the little bit of additional cost is worth it. There are no rolled wall above ground swimming pools stronger, or that will last longer than our Dauntless Pool.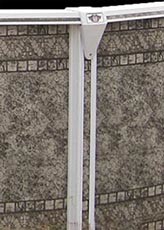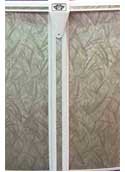 Dauntless Above-Ground Swimming Pool Brochure
Package Includes
21'x52″ Round Aluminum Above-Ground Swimming Pool package
Hayward Skimmer Kit w/Vacuum plate and accessories
Brighton Prism HG Liner while supplies last – other options available here.
Confer 7200 A-Frame Ladder with security lockable roll guard
Premium 120 square foot Cartridge Filter System with Energy efficient 2-Speed Pump
High-Grade Maintenance Accessory Package
21×52 Round Above Ground Pool – Dauntless Package – Aluminum Pool