Description
Aquasport 52 15x24x52 Oval Semi-Inground Pool Package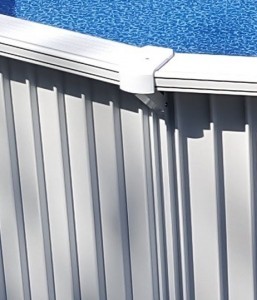 No doubt the best semi-inground pool is the Aquasport 52. There is no stronger pool, or a pool designed to last longer. Its strength comes from the extra thick aluminum slats, that go into the construction of the Aquasport 52 wall.
The Aquasport 52  aluminum top rails are manufactured with a bead channel built right in. Making this pool like an inground pool, you don't have to disassemble any part of this pool to replace the liner. Read more about the Aquasport 52.
15 x 24 x 52 Semi – Inground Pool Kit Includes:
Pool: Aquasport 52 with Above-Ground Skimmer (inground skimmer and pump available separately)
Choice Of Four Full Print Premium Beaded Liners
Hayward Xtream 150 Square Foot Cartridge Filter w/Matrix Energy Efficient Pool Pump + Accessories
Confer 7200 Ladder with Security Barrier and Lock
Elite Pool Cleaning Equipment Set The Pro's Use
Build your own custom package Click here
The Included Skimmer
Standard Hayward Skimmer package with a through-wall return, gaskets, face-plates, hardware, vacuum plate adapter, plus additional butterfly gaskets.
This is everything you need to get water out of the pool, and then back to the pool.
If you intend to bury the skimmer like an inground pool, we can provide an in-ground skimmer instead for an additional $100.00
For help checking out, or to place an order over the phone, please call or text (978) 710-8667.