Description
Semi Above Ground Pool – 17x32x52 Aquasport 52 Package (oval)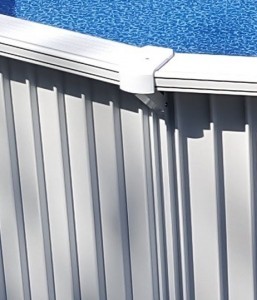 This pool is the biggest semi above-ground / in-ground oval swimming pool available from Aquasports Pools LLC. Call this pool what you like, you can install it any way you want except for completely on-ground. You must bury this pool at least one foot, otherwise you will need to pour a cement collar.
This package was designed for semi above-ground installations. I have included the above-ground skimmer kit and an above-ground pool pump as most people install it only two feet in the ground.
For those who want to install this pool completely in-ground, or for those who will be placing filtration equipment above the water line, you will require the inground skimmer, panels, and appropriate pump. We have this equipment and can make adjustments to the package to meet your needs.
17 x 32 x 52 Semi-Above-Ground Pool Kit:
Pool: Aquasport 52 with Above-Ground Skimmer (inground skimmer and pump available separately)
Choice Of Three Full Print Premium Beaded Liners
Hayward XStream 150 Square Foot Cartridge Filter w/Matrix Energy Efficient Pool Pump + Accessories
Confer 7200 Ladder with Security Barrier and Lock
Elite Pool Cleaning Equipment Set The Pro's Use
Build your own custom package Click here
For help checking out, or to place an order over the phone, please call (978) 710-8667. During the season with high call volumes, it is best to text or email. Someone will respond as soon as possible.