Description
Speck Variable Speed Above Ground Pool Pump – E71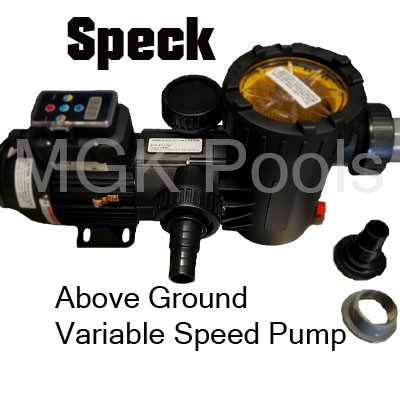 This pump works with any filter as it can be set up for top discharge or side discharge
This powerful yet energy efficient variable speed pool pump is perfect for any size above ground swimming pool. I have packaged this pump with all my favorite above ground pool filters.
This pump comes with a cord ready to plug in, unlike many other variable speed pumps.
It make a perfect replacement pump for any above ground pool system as it has nipple style and slip connectors for plumbing, so you can hook up your standard above ground flex hoses, or hard plumb in some inch and a half PVC
No need for a timer, you can program this pump when to run.
This pump took top honors in my pool pump reviews article do to its durability, versatility, and low cost. It is also listed as the 1st most energy efficient pump on energy star ratings website.
This pump has to be located below the water line as it is only suitable for above ground swimming pools.